Specification
INNO
(Absorbance)
Absorbance
Wavelengtd Accuracy
±2 nm
Electrical Requirements
±2 nm
Microplate type
6 ~ 384 well plate
Detector
Photodiode
Light source
Xenon flash
Wavelengtd Range
200 to 999 nm
Wavelengtd selection
Monochromator
Application
Wavelengtd scanning, end point, Kinetic, Area scan
Dynamic range
0 ~ 4.0 OD
OD accuracy
0 ~ 2 OD ±1%
OD linearity
0 ~ 2 OD ±1%
OD repeatability
0 ~ 2 OD ±1%
Shaking
Two step speed
DNA/RNA Micro Volume plate (NANO-V)
24well / 2ul Sample (Option)
Weight
7.5kg
Size
333x303x245
Software
INNO X (Windows Software)
Supported software regression
Linear, Quadratic, Cubic, Log, Exponential, Linear logaritdmic, point-to-point, 4PL
Specification
INNO-M
(Absorbance + Luminescence)

Absorbance
Wavelength Accuracy
±2 nm
Electrical Requirements
INPUT 100 to 240V 50/60Hz / (65W Adaptor)
Microplate type
6 ~ 384 well plate
Detector
Photodiode
Light source
Xenon flash
Wavelength Range
200 to 999 nm
Wavelength selection
Monochromator
Application
Wavelength scanning, end point, Kinetic, Area scan
Dynamic range
0 ~ 4.0 OD
OD accuracy
0 ~ 2 OD ±1%
OD linearity
0 ~ 2 OD ±1%
OD repeatability
0 ~ 2 OD ±1%
Shaking
Two step speed
DNA/RNA Micro Volume plate (NANO-V)
24well / 2ul Sample (Option)
Weight
7.5kg
Size
333x303x245
Software
INNO X (Windows Software)
Supported software regression
Linear, Quadratic, Cubic, Log, Exponential, Linear logarithmic, point-to-point, 4PL
Luminescence
Detector
Photomultiplier (PMT)
Wavelength range
300 - 700nm
Peak Wavelength
420nm
Limit of Detection (moles)
3x10-21 moles
Software
INNO X (Windows Software)
Supported software regression
Linear, Quadratic, Cubic, Log, Exponential, Linear logarithmic, point-to-point, 4PL
Weight
8kg
Size
333x303x245
INNO-S
Specification Description
(Absorbance, Luminescence & Fluorescence Microplate Reader)
Light source Xenon flash lamp
Light source
Xenon flash lamp
Detector
Photodiode
Wavelength selection
Monochromator
Wavelength range
200 – 999 nm, 1 nm increments
Dynamic range
0 – 4.0 OD
Resolution
0.0001 OD
Pathlength correction
Yes
Monochromator wavelength accuracy
±2 nm
Monochromator wavelength repeatability
±0.2 nm
OD linearity
<1% from 0 to 3.0 OD
OD repeatability
< 0.5% at 2.0 OD
Fluorescence Intensity
Sensitivity
Top and Bottom : Fluorescein 5 pM (96-well plate)
Light source
HIGH POWER LED
Wavelength selection
Filters
Wavelength range
350 – 700 nm
Dynamic range
>6 decades
Detector
PMT
Luminescence
Sensitivity
30 amol ATP
Wavelength range
190 – 720 nm
Dynamic range
>6 decades
Detection system
Low noise PMT
Time-Resolved Fluorescence
Light source
HIGH POWER LED
Wavelength selection
Filter
Temperature control & Shaking
Temperature control
Incubation up to 50 °c, +- 0.2°c at 37°c
Shaking
Linear & Orbital
Reagent Injectors

(Not yet launched)

Number
2 syringe pumps
Dispense volume
5 – 1000 μL in 1 μL increments
Dispense accuracy
±1uL, 2%
Physical Charateristics
Connectivity
1 USB, 1 RS232 for external PC control
Power
100 – 240 Volts AC. 50/60 Hz
Dimensions
408w x 390L x 240H
Weight
18.2 kg
Regulatories
CE and RoHS compliant. ISO 9001 & ISO 14001
INNO-S Product line Configurations
| | | | |
| --- | --- | --- | --- |
| | INNO-S | INNO-SA | INNO-SF |
| Absorbance | √ | √ | |
| Fluorescence | √ | | √ |
| Luminescence | √ | | √ |
| Shaking | √ | √ | √ |
| Incubation | √ | √ | √ |
| TRF | √ | | √ |
| Dual Reagent injector | √ | √ | √ |
INNO-S Fluorescence Filter List
| | | | | | |
| --- | --- | --- | --- | --- | --- |
| NO | Filter NAME | EX Wavelength (nm) | Bandwidth (EX) | EM Wavelength (nm) | Bandwidth (EM) |
| 1 | CFP | 426 – 450 [438] | 24 | 502 – 538 [520] | 36 |
| 2 | GFP | 457 – 487 [472] | 30 | 502 – 538 [520] | 36 |
| 3 | FITC | 467 – 498 [482] | 31 | 513 – 556 [534] | 43 |
| 4 | YFP | 466 – 497 [481] | 31 | 524 – 544 [534] | 20 |
| 5 | CY3 | 498 – 523 [510] | 25 | 566 – 614 [595] | 48 |
| 6 | TRITC | 532 – 554 [543] | 22 | 576 – 597 [586] | 21 |
| 7 | Texas Red | 542 – 582 [562] | 40 | 604 – 644 [624] | 40 |
| 8 | mCherry | 542 – 582 [562] | 40 | 603 – 678 [640] | 75 |
| 9 | CY5 | 604 – 644 [624] | 40 | 672 – 712 [692] | 40 |
| 10 | CY5.5 | 635 – 675 [655] | 40 | 696 – 736 [716] | 40 |
| 11 | DAPI | 355 – 402 [378] | 47 | 417 – 463 [440] | 46 |
| 12 | Lucifer Yellow | 426 – 450 [438] | 24 | 513 – 556 [534] | 43 |
| 13 | SpectrumGreen | 465 – 500 [482] | 35 | 517 – 537 [527] | 20 |
| 14 | Qdot525 | 415 – 455 [435] | 40 | 518 – 533 [525] | 15 |
| 15 | Qdot605 | 415 – 455 [435] | 40 | 598 – 613 [605] | 15 |
| 16 | Qdot625 | 415 – 455 [435] | 40 | 618 – 633 [625] | 15 |
| 17 | Qdot655 | 415 – 455 [435] | 40 | 648 – 663 [655] | 15 |
| 18 | SpectrumGold | 524 – 544 [534] | 20 | 558 – 586 [572] | 28 |
| 19 | SpectrumOrange | 532 – 554 [543] | 22 | 576 – 596 [586] | 20 |
| 20 | SpectrumRed | 576 – 596 [586] | 20 | 612 – 644 [628] | 32 |
※

Highlighted in color "Yellow" are the two pairs of fluorescence filters that are provided at the fluoresecence function instrument purchase.
Unless the customer requests to switch the provided filters to the other filters that are on the list above.
Requesting different set of filters must be made before signing the P.I.

※

Numbers in the color "Blue" within the suare brackets above indicates the value that the user is required to type in in the software[refer to the Operation manual Pg.25] in case that the user has purchased extra filters other than the provided standard filter.

※

Also above list of filters are the basic filter specifications and the wavelength specifications of each filters may differ slightly then the specification shown above.

※

Bandwidth values of EX and EM in the list above must be also typed into the EX/EM setting window in the software along with the EX and EM center value in color "Blue".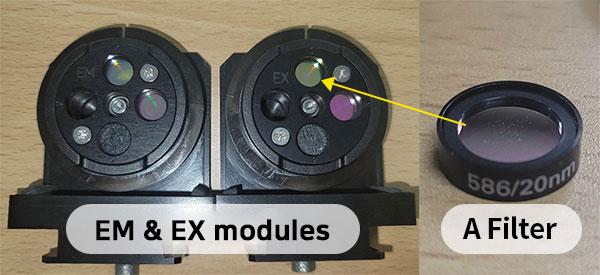 Specification
INNO-N
(Micro Volume Spectrophotometer)
| | |
| --- | --- |
| Absorbance Accuracy | 3% |
| Absorbance Range | 0 to 60 Abs |
| Applications | Nucleic Acid Quantification, DNA Quantification, RNA Quantification,Protein Quantification |
| Certifications/Compliance  | 3000ng/µL (dsDNA), 60mg/mL (BSA) |
| Connections | USB |
| Detection Limits | 0.12mg/ml (BSA), 4ng/µL(dsDNA) |
| Detector Type | Silicon photodiode |
| Display | LCD |
| Includes (optional) | Printer |
| Lamp | Light Emitting Diodes (LED) |
| Material | 303 stainless steel; quartz fiber |
| Measurement Time | ±5 sec. |
| No. of Samples | 1 |
| Pathlength (Metric) | 0.5mm |
| Resolution | ±8nm |
| Sample Volume (Metric) | 2µL |
| Spectral Resolution | ±8.0nm |
| Warranty | 1 year parts and labor |
| Wattage | 18W |
| Wavelength Range | 260nm, 280nm ,360nm |
| Weight (Metric) | 2.2 kg |
| Size (cm) | 20.5(L) x 22(W) x 16(H) |
| Voltage | 24V Adaptor |
Specification
INNO-Q
(Absorbance Test Plate) - OPTION
Absorbance
Wavelength Accuracy
±2 nm
Electrical Requirements
INPUT 100 to 240V 50/60Hz / (65W Adaptor)
Microplate type
6 ~ 384 well plate
Detector
Photodiode
Light source
Xenon flash
Wavelength Range
200 to 999 nm
Wavelength selection
Monochromator
Application
Wavelength scanning, end point, Kinetic, Area scan
Dynamic range
0 ~ 4.0 OD
OD accuracy
0 ~ 2 OD ±1%
OD linearity
0 ~ 2 OD ±1%
OD repeatability
0 ~ 2 OD ±1%
Shaking
Two step speed
Software
DNA/RNA Micro Volume plate
Supported software regression
24well / 2ul Sample (Option)
Luminescence
Detector
Photomultiplier (PMT)
Wavelength range
300 - 700nm
Peak Wavelength
420nm
Limit of Detection (moles)
3x10-21 moles
Software
INNO X (Windows Software)
Supported software regression
Linear, Quadratic, Cubic, Log, Exponential, Linear logarithmic, pointto-point, 4PL
Weight
8kg
Size
333 x 303 x 245
NANO-VC
(Optional Accessories) Specification
NANO-V & NANO-VC(Optional Accessories) Specification
2μl Sample Capacity
24 Wells
Cuvette Capactiy
1 Slot
Cuvette Size
2.5ml tube
Compatible Models
INNO, INNO-M & INNO-S
Optical Path Length
0.5 mm
Detection Limit
2 ng/μl dsDNA